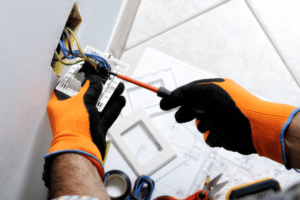 Lumenate has been serving the Middle Tennessee area with professional holiday, architectural, and landscape lighting for the last 10 seasons. Today, the company is proud to announce that it will also add general electrical services to its lineup.
For the last 10 Christmases, Lumenate has helped illuminate Middle Tennessee with professional landscape and holiday lighting. One question lighting technicians have heard over and over again throughout the years was, "Do you know a good electrician?" Until now, the answer was always no. But, thanks to customer demand, Lumenate has recently obtained its Tennessee Journeyman Electrical License and now offers a range of electrical installation and electrical repairs.
Just a few of the services now being offered include:
Panel upgrades. There are many reasons that you might call an electrician to upgrade your electrical panel. First is age. Most experts recommend updating your electrical panel every 25 years. You might also upgrade if you notice the lights dimming when your refrigerator kicks on or if you have added a hot tub or swimming pool to your home.
Surge protection. If you've lived in Middle Tennessee for any length of time, you know that power surges are common. Lumenate can install a whole house surge protection system, which offers an added layer of protection for your electronics.
Energy audits. Do you know how much electricity you use each day? Lumenate can help you identify problem areas so that you can reduce your utility bills and live in a more efficient and environmentally-friendly home.
Electrical installation and maintenance. Lumenate offers a full range of electrical installation services. If you need a new light fixture or hardwired appliance, you can trust the professionals at Lumenate to get the job done.
Electrical repairs. Common electrical repairs might include replacing outdated light switches, blown fuses, and loose power outlets.
Additionally, Lumenate will now offer electrical installations for new construction homes as well as remodels. Licensed electrician Brad Norton will lead Lumenate's electrical division.
Lumenate made the decision to add high and low-voltage electrical service as it made sense based on the company's experience with architectural and holiday lighting. Electrical is a perfect complement to these services and allows Lumenate to better cater to the needs of our friends and clients.
Lumenate was founded by Luther Tanley and has done work for the Adventure Science Center, Factory at Franklin, Ravenwood Mansion, multiple municipalities, and drive thru light shows to name just a few of its clients. For more information on electrical installation or lighting services, contact us today.