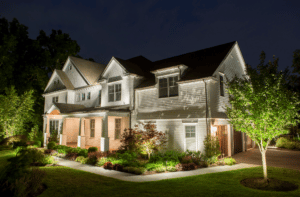 Your flowerbeds are on point, and your yard looks about as good as it ever has. Now, you're ready to install landscape lighting so that people passing by can enjoy the view day and night. But, how do you choose a landscape lighting company for your Franklin home?
Start with understanding your purpose. Do you want to illuminate a special feature, such as a collection of ornamental statues? Are you more interested in security? You have to ask yourself these questions to know which type of outdoor lighting you need so that you can get recommendations from customers who've invested in a similar service.
Landscape lighting can also be used for security. If you're looking for a company that can light up dark areas so that your property is more secure in the nighttime hours, you should know this before you start vetting potential service providers.
Budget is another thing you must keep in mind as you choose a landscape lighting company. Know that the cheapest company is not necessarily the best option here, and you will want to weigh quality and service against your final invoice to determine the actual value you are receiving.  When working with a company that will "beat any price in town" they are either inexperienced in design or will take consequential shortcuts to ensure they don't lose on the deal.   
Many people choose to have landscape lighting installed simply to enhance curb appeal. If your home is getting ready to go on the market, low voltage LED lights can make your home more attractive for buyers searching in the evening hours. Lighted steps will also make potential buyers feel more secure if you have a deck or porch they must navigate.
Sometimes, lighting needs are temporary. If you have an event planned, ask your lighting company if they offer lighting that can help you make the most of the evening. The way that your event venue is lit up affects the mood and even functionality of your event. Ask your lighting company if they offer on-site maintenance throughout the duration of your event. After all, the last thing you want is for your lights to fail in the middle of an important moment. Similarly, if you're simply looking for lights to make your Christmas season sparkle, look for a company with the experience, equipment, and professional-quality lights to help you showcase the holiday spirit one twinkle at a time.
If your home has water features, such as a pool or pond, you might look for a landscape lighting company that has experience with submerged lighting options. Similarly, if you have a large property in need of pathway lighting, look for a landscape lighting company that knows how to ensure uniform brightness.
When you get ready to do your research, you'll also want to look for landscape lighting companies in Franklin that offer professional installation. Lumenate's team of experts have racked up dozens of five-star reviews throughout the last decade. We also offer a fully functional high-voltage electrical division, which is a perfect complement to our low-voltage outdoor lighting services.
For more information on architectural, landscape, holiday, or event lighting for your Franklin home or office, visit Lumenate online today.