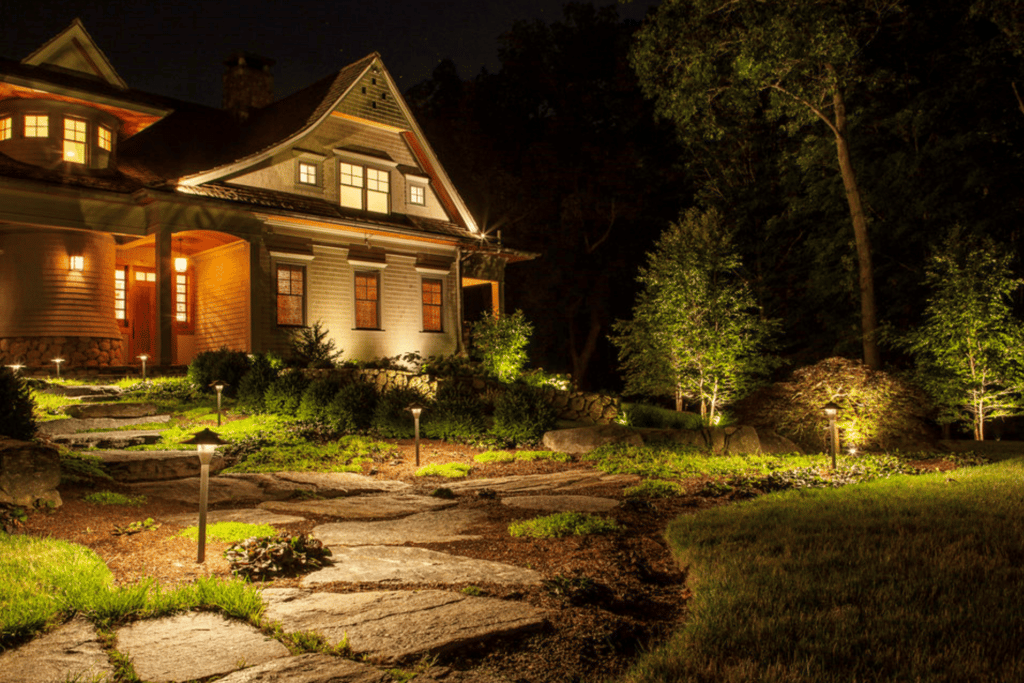 There's something magical about the holidays, and much of this feeling comes from the glistening, twinkling lights we see as we drive about the town. Nashville and Franklin, TN, are especially beautiful this time of year, and commercial landscape lighting is the reason for the ambiance of the season.
Aside from getting into the spirit of Christmas, there are many other reasons that landscape lighting is valuable throughout the year. Key of these is to highlight architectural components that might otherwise get lost under the night sky. Offset bricks that create designs in a building is one example. Shine a light the right way on these, and you'll see shadows that make a silhouette, giving depth to the building after dark.
Security is another important reason for landscape lighting on a commercial property.  While Franklin, TN, is considered a relatively safe suburb of Music City, apartment complexes, especially, are prone to poor lighting that make residents easy targets for thieves. Multi-family buildings should be well-lit with lighting that provides illumination in dark areas, such as behind a tree line, but without being intrusive to residents.
Many commercial businesses choose to take their landscape lighting efforts vertical to showcase the sheer splendor of a building. A historic college campus, for example, may have low-voltage lighting from ground to roof, allowing students to easily see which building they're walking to as the day fades away. Low-voltage lighting can also be used to turn an otherwise unseen building into a nighttime focal point.
Landscape lighting can also be used in commercial settings to enhance outdoor entertainment areas. If you've been to one of the many outdoor dining establishments throughout Franklin, you've likely noticed commercial string lights. These can create an outdoor bistro, dance floor, or open patio.
Many businesses, campuses, and residential complexes also choose to use lighting as part of their overall design. It's hard to argue with the aesthetic appeal of balanced lighting on pathways and landscape features.
Lighting is also important for safety when it comes to water features, such as swimming pools and hot tubs. These areas must be lit up at night for many reasons. First is to set the mood. Lighting is also important so that people can see where they're stepping and for emergency situations, such as if someone is stuck under water.
Lumenate is proud to have partnered with many local commercial businesses and tourist attractions to help light up our city. The Adventure Science Center, Richland Country Club, Ravenswood Mansion, the City of Germantown, Downtown Nashville, and the City of Brentwood have all graciously allowed us to showcase their campuses and public spaces in their best light.
If you are a business owner looking to create the perfect landscape lighting plan for your building and grounds, let our experts walk you through the process. Our team includes experienced lighting technicians, design specialists, and licensed electricians that can highlight your property's natural and architectural elements with the flip of a switch.